The numbers don't lie.
In the dynamic world of analytics, strategies abound: pay-per-click, programmatic media, Facebook promoted posts, social media campaigns, e-blasts, online job postings, event landing pages, your own career site performance…Here's the thing: unless you can track results of your efforts with unbiased analytics, how can you possibly determine and validate the effectiveness of your HR recruitment spend? How do you know if you need to revise your approach and try other tactics?
Analytics help you to understand candidate behavior and allow for more refined strategies that yield better results. Although employer branding and the candidate experience will always be paramount, smart companies are also adopting a data-centric approach to how prospective candidates engage with job advertising.
Analytics provide a baseline.
Analytics allow you to adjust and refine your approach in order to implement more effective tactics and shift your Talent Acquisition budget according to your successes, rather than create a static budget that you fervently adhere to, without truly knowing how it is performing. Your Talent Acquisition budget will then become a living and breathing entity, rather than a finite measurement tool.

As your needs and results change, you will be able to react and respond accordingly. Most importantly, analytics allow you to make an informed decision on media—both to further leverage or remove if not working.

Monthly reporting results overview for a NAS ACTIVATE™ client: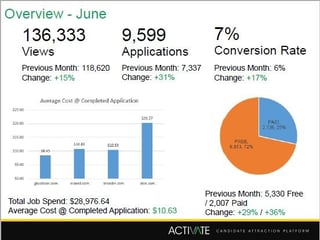 Analytics enable more targeted recruitment strategies that allow you to reach the talent you want to attract without spending more than is necessary. Key advantages include:
Tangible value, efficiency and transparency in your efforts and, ultimately, your results

Elimination of overspend (paying too much) and non-competitive bids (underpaying/not bidding high enough to compete with other employers vying for the same candidates)

Removal of third-party/unverified data and guesswork

Keeps everyone involved accountable for performance and recommendations (e.g. both the media and the advising party or consultant)
Analytics are very much a necessary tool when it comes to formalizing any sort of strategy, along with any midstream adjusting.
It helps us to remove doubt from what is or is not working and guides us in determining where to invest our resources.
Analytics is serious business at NAS.
More broadly, analytics provides valuable data points such as:
Total count and cost-per-application

Total view to jobs (from media to a job requisition)

Cost per views/applications/hires

Conversion rate

Individual media performance reporting

Applications by Job Family/Category on your career site

Monthly, Quarterly and YTD snapshots

Plus, NAS' expert consultation and analysis
Budget for analytics, and rely on an experienced partner to help you understand and act on the results. At NAS, we offer three tiers of analytics packages for our ACTIVATE™ platform, which includes comprehensive support in the form of dashboard access, automated reporting and monthly touchpoint calls. In addition, our in-house digital marketing strategist works with clients to monitor and track performance of their ad spend for social media campaigns and more.

Often, getting started is the hardest part of the process, as it requires some real thought and technical assistance to put tracking in place. However, you'll find that as you start to gain exposure to this intelligence, you will realize its value in so many ways. If you'd like to add to the conversation on analytics, feel free to respond in our comments section.

Related content:
The 2 Most Important Analytics for HR Professionals
Google, Facebook, and Job Ads: 3 Must Do's to Break Through