In the Internet-obsessed world we live in, everyone is an expert—and opinions, experiences and overall impressions vary wildly from one source to the next. The online review has become so ubiquitous that there are forums, groups and sites devoted solely to mocking – or praising – them. As consumers of online content, we have the power of instant investigation and validation, which consequently forms our perceptions and beliefs.

Online reviews have forever changed the way people think about what they will invest in—including their next career move. The truth is, we tend to trust friends and peers. The people who remind us of…ourselves. Peers and employees are more credible than company spokespeople. Peer recommendations impact our conversations about brands, influence our own buying habits and help us to make decisions and overcome concerns about what affects our world.

Peers are highly trusted.

The 2017 Edelman Trust Barometer reveals that trust is in crisis around the world, and peers are now considered as credible as experts.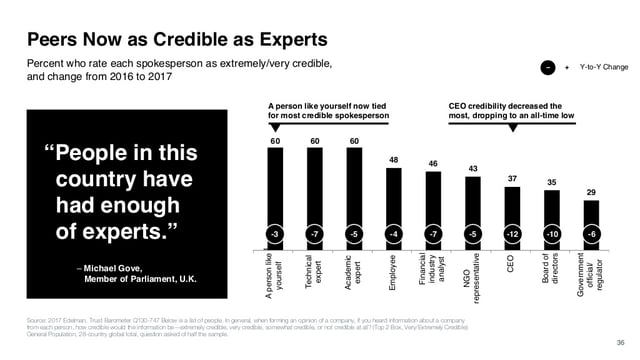 Peers also recommend employers. Or not.

Candidates today increasingly treat a job search like an online shopping experience. In fact, according to a 2016 Glassdoor U.S. Site Survey, most candidates read six reviews before forming an opinion about a company and 70 percent now look to reviews before they make career decisions. In addition to reviews, they want to know general information about your business and what sets you apart as a great place to work. A company's reputation is among the top considerations of job seekers. Glassdoor, reveals that:

90% of job seekers say that it's important to work for a company that embraces transparency

62% of job seekers agree their perception of a company improves after seeing an employer respond to a review

How you can embrace the new reality.

In order to attract and retain talent, and appeal to passive candidates, you must embrace, and manage, your online presence. A few tips to keep in mind:

Engage with your audience. Silence is your worst enemy here. If you find a less-than-flattering review of your company, respond positively and seek suggestions from the reviewer. Letting them know that you care what they think is the first step to creating an authentic, compassionate online presence.

Don't make it all about you. No doubt we've all read many a boast-post; not only are they annoying, but they're also a credibility "red flag." If you have to work overtime to convince people how great you are, you're probably not. So work on that first.

Make it authentic. Your best ambassadors for your organization aren't invented in marketing: they're right in front of you. Your own employees represent the essence of who you are as a company, and have the tendency to attract people who are equally skilled and talented. The place to let them shine? Your career site. Employee testimonials and video allow your story to be told in a very personal, convincing manner.

Turn to the experts. The internet has made the task of managing a brand reputation increasingly complex. News spreads these days within seconds—both good and bad. A quick Google search of "online reputation management" reveals a wealth of resources, most notably, companies whose sole business is to maintain and improve your online presence. It is almost impossible to change a person's first impression of a company, so investing in expert services can be an important step in managing your online presence.

Related content: