There are great benefits to an Employee Referral Program. Key points to consider include:
Referrals offer the fastest time to fill
Referrals are the most productive source for diversity hires
46% of hires at top-performing firms are referrals
So why are your ERP results less than impressive?
If you've been running a referral program and it's just not getting the traction that it should,
there are key factors you should consider:
Give it time. Keep in mind that referrals still offer the fastest time to fill at an average of 29 days (vs. 39 days for job boards and 45 days for career site sourcing, respectively). Your referral program should be in place for a full 90 days in order to produce any measure of useful analytics. If at that point your results aren't meeting expectations, then you can reboot your ERP with a fresh perspective and new creative elements.
Responsiveness is vital. The biggest complaint we hear from employees about ERPs is the lack of communication from HR. You need to proactively respond to the nominee and referring employee. Lack of a timely, quick response could influence the success – or determine the failure – of even the best ERP. Constant communication and engagement will keep the program on track.
Introduce new incentives. We know that cash is king. In fact, 96% of referring employees say a cash bonus is the most appropriate reward. But is it enough? While ERPs are typically tied to a cash bonus for the referring employee, it occurs "behind the scenes" in an often anonymous way. Why not make it a bit more personal and make the acknowledgement more public? In the welcoming spirit of your company, perhaps you could host a luncheon honoring both the referring employee and the new hire. Need more ideas? Survey your own employees ("What would make you refer a friend?") and offer an incentive for participation.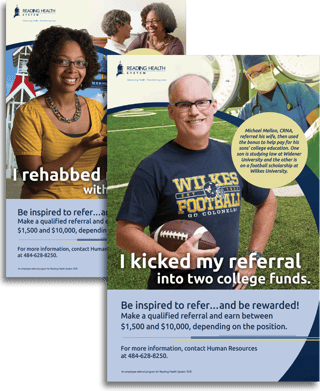 Revitalize collateral, refocus efforts. Oftentimes, HR sends an email introducing the ERP…and it ends there. In order to ensure engagement, you must take proactive measures to keep the ERP top of mind for your own employees and prospective candidates. How?
Host a Kickoff Event to introduce the program internally.
Focus on additional creative elements to attract attention (table throws, posters, direct mail).
ERPs are technically an "internal" program but remember one vital point: your employees also engage in social media with their colleagues and peers – exactly their source of referrals! So be social, and utilize your own employees to tell their story why your organization is so special.
Maximize your exposure and be sure to advertise the ERP on your social media channels (Twitter, Facebook, LinkedIn, etc.).
Include ERP in your recruiter's tool kit.
Include an ERP mention in your email signature and voicemail message.
Publicize your ERP in your company newsletter.
Expand your ERP to friends and families of employees.
Consider partnering with an external ERP technology resource. A good ERP needs strong technology or tracking so that everyone knows what phase the candidate is in with the hiring process, and what phase the employee is in with payout. NAS partners with organizations that specialize in employee referral technology platforms designed to maximize participant engagement and automate the process.
Never separate, always equal. All employees – regardless of status, classification or tenure – should be eligible to participate in the program and nominate candidates. Not only does this reinforce your reputation for fairness and respect as an employer, it also ensures maximum exposure for your ERP and produces the widest range of potential candidates.
Start strong, stay focused. Start with a strong candidate going through the hiring process. Ask the question: "Do you know someone just like yourself who might be a good fit?"
Recruitment is constantly changing. What worked six months ago may not work today, but what never changes is the need to understand the target audience you are recruiting for. Utilize the research that is available, and know that the recruitment cycle is not just a posting; your EVP, brand and culture are critically important to the candidate.
The bottom line for top performance? Keep it exciting, keep it fresh and keep the rules simple. Promote often and make the payoff easy. Need guidance in re-energizing your ERP? Contact NAS for assistance.